Earring jewelry style
Earrings complete your fashion statement.There are earrings for all occasions -the office, casual outings, your wedding, a night on the town, or a day at the beach. Your earrings define your personality; creative, subtle, sophisticated, exciting or shy.
Cnepearl wholesale all types of earrings -chandelier earrings,dangle earrings,hoop earrings, stud earrings, hook earrings,Clip earrings and Leverback earrings. Earrings come in all types of materials and metals; yellow, white gold or silver; Choose from pearls, gemstones, coral& turquoise beads, jade or crystal;
*pearl earring style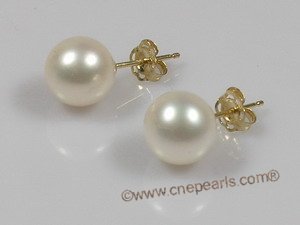 Sterling stud earrings
The main characteristic of stud earrings is the appearance of floating on the ear or earlobe without a visible (from the front) point of connection. Studs are invariably constructed on the end of a post, which penetrates straight through the ear. The post is held in place by a removable friction back or clutch. It is appropriate for any occasions.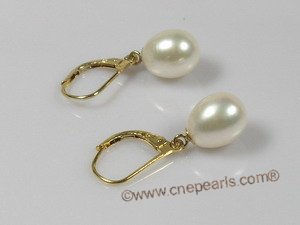 Leveback earrings
Leverback give a secure way to wear the earring and will not bring the trouble of sticking your hair.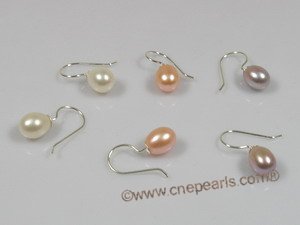 Dangle earrings are designed to flow from the bottoms of the earlobes, and are available in various lengths, They are generally attached to the ear by the use of thin wires, which go through the earlobe and connect to themselves in a small hook at the back. A variation is the French hook design, which merely hangs from the earlobe without closure;


hoop earrings are circular or semi-circular in design, and look very similar to a ring. They are often constructed of metal tubing, with a thin wire attachment penetrating the ear. The hollow tubing is permanently attached to the wire at the front of the ear, and slips into the tube at the back. The entire device is held together by tension between the wire and the tube.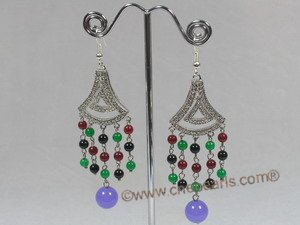 Chandelier earrings

This style of earring has multi-level branches that hang down from the earring base.Normally gemstone briolettes hang from the branches.Chandelier earring just add some kind of exotic feeling.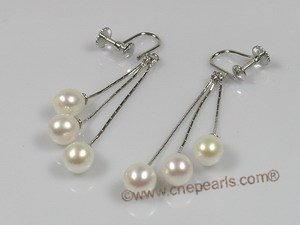 Clip earrings
Clip earrings are a rage with women who haven't had their ears pierced. Such earrings are fixed with a tension clip and it is pinched to the earlobe. Clip earrings come as studs or hoops. Some pierced earrings come with options to convert them into clip earrings too.